Seating Assignments & Arrangements
A woman's wedding day is without a doubt the most special and memorable event of her life; however, that event does not come without a few bumps along the road. There are so many aspects of planning a wedding that are positively exciting, from taste testing to gown shopping, but one of the most dreaded tasks is seating assignments and arrangements. It is difficult to foresee how individuals will interact with one another at their prospective tables at the wedding but there are many different ways to handle the seating arrangements in order to minimize your stress.
Staying organized should be your top priority. Living in a digital world comes in handy when wedding planning. For your seating arrangements it is suggested to create an Excel sheet. You can begin by making a full guest list of everyone you intend to invite; doing this makes it easier to remove people in the future. Using that same list, you can categorize your guests, for example: bride's family, groom's family, bridal party, and friends. By separating everyone into groups, assigning guests to a specific table will be easier.
Now, let's talk about the actual table assignments. One important aspect to take into consideration is the amount of seats each table will have available. A typical round table, which is 60 inches, without chargers will seat ten guests and with chargers will seat eight guests. Using your Excel sheet, begin placing your immediate family members at the tables closest to the bride and groom. Afterward, begin arranging the rest of your guests listed under the bride and groom section of the excel sheet.
Once your family is placed, move on to your bridal party. Many couples will create a head table for their bridesmaids and groomsmen, as well as their significant others, pending on the amount of space available. Since the head table is usually in the center of the room or it lines the dance floor, it should stand out. You can do this with larger arrangements and candles cascading down the center. Creating name cards will eliminate any confusion regarding seating. The bride and groom should sit at the head table with the bridal party; the best man should sit next to the groom while the maid of honor sits next to the bride or the bride and groom can have their own intimate table. The final seating arrangements are for the rest of your friends. Before deciding which tables to seat them at it is easier to further categorize them. Place guests with individuals they may know or based on similar interests.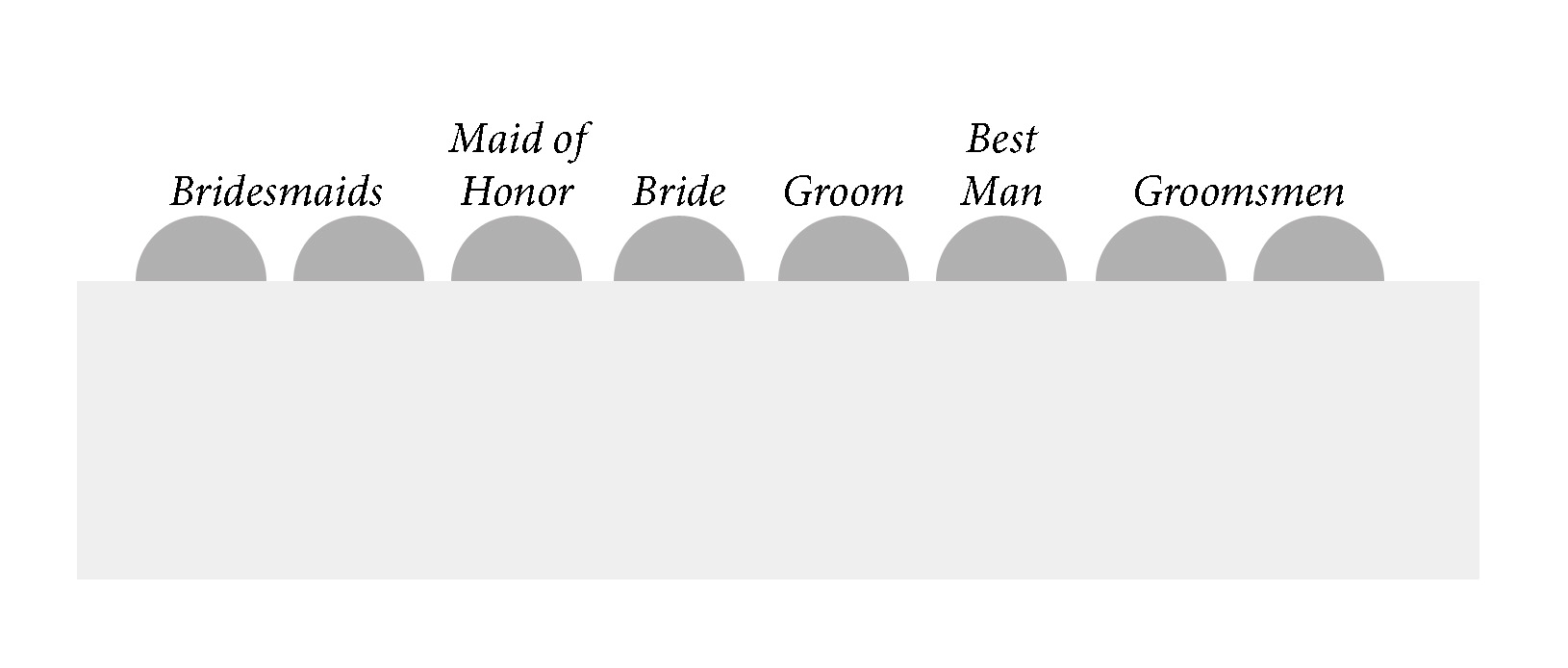 Now that all of your guests have been placed in groups, create a table layout. Often times your venue or planner will create a floor layout for you. If you want to create a mock layout, you can do this through Word. In Word, use whichever shape is closest in similarity to the shape of your tables. This feature can be found under the "Insert" tab, followed by the "Shapes" tab. Once you have created a mock version of your tables, you can see where you would like to place your groups.
Here is an example of a table chart that was created through Word.
Once you have finalized your tables and seating arrangements, create a seating list for your "Day Of" planner and venue. This is used on the wedding day during the reception set-up as well as during the reception in case of any confusion.
Below is an example of the seating assignments, by table, that you would also supply to your "Day Of" planner and wedding venue.
Lastly, you should provide an alphabetized list, as well as guests table number, for your "Day Of" coordinator, incase the guest can not find their tent card or their name listed on the seating chart. This also comes in handy if you have any last minute guests that decide to attend.
HAPPY ENGAGEMENT, HAPPY PLANNING
Rebecca Niccole